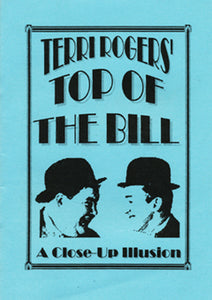 Top of the Bill
Terri Rogers was one of the most creative people in magic. Top Of The Bill is one of her finest creations! It is an absolutely brilliant application of the old Magic Boomerangs. One which takes a simple puzzle and turns it into a full-blown magic routine. Show two name plates. One for Stan Laurel and one for Oliver Hardy. The name plates shrink and stretch, depending on who is on Top Of The Bill! How does this happen? Simple. The plates are long on one side and short on the other. Huh?
Is this some kind of bizarre optical illusion? It would seem so until the finale in which the spectator is left holding two name-plates of completely different sizes!
The routine is terrific. Lots of magic. Lots of audience participation. Perfect for trade-show workers. Just make the name plates up with different product names.
Comes with the laminated name plates and Terri's complete routine.