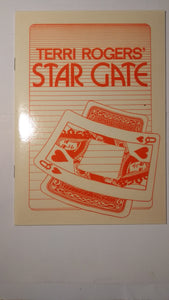 Terri Rogers - Stargate - NEW
An incredible effect based on a topological principle. Two cards are shown glued back to back. The spectator may examine them as there is nothing to find.
The performer takes the cards, gives them a few deft folds and then hands them back to the spectator ... but now the cards are face to face. It looks impossible because the cards are still glued together. What's more, they are the same cards that the spectator handled earlier. There is no switch of any kind.
You won't believe it yourself the first time you perform it.
[Note: Originally this booklet was supplied with a Jumbo cards already prepared and glued together. This ebook comes without a set of glued cards. However, the ebook has clear explanation of the construction. You can prepare a set from regular cards with a knife and tape in a few minutes.
1st edition 1985, 1st digital edition 2013, 11 pages.