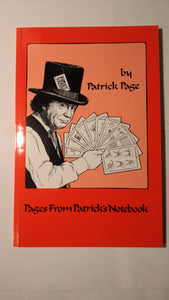 Patrick Page - Pages From Patrick's Notebook - NEW
This superb book is packed with ideas and routines from Patrick Page one of the most knowledgeable professional magicians around today. Imagine producing real beer in an empty can - close-up! Plus rope routines, card moves and effects and lots more, including Pat's Princess Quatro Card Trick.
Soft Cover. 94 pages, beautifully illustrated by Earle Oakes.