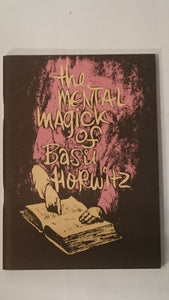 Martin Breese (ed) - Mental Magick of Basil Horwitz, Vol. 1 - NEW
This book was first published in 1981 and has been reprinted several times since then.  The current reprint is a softback as was the first edition.   The book was created from the Magicassette recordings on Basil Horwitz made by Martin Breese.   The book received rave reviews from every magical magazine around the world. 
The opening chapter by Basil Horwitz details a method of linking a show with charity and using it to make a big income for the charity and a big income for the performer.   During Basil's lifetime he was also involved in investment and finance.  He used to perform for charity and demonstrated mental miracles that stunned his audience.  When each member of the audience left the show Basil ended up with the name, address and telephone number of hundreds of people desperate for him to ring and discuss financial plans, investment and insurance. 
The seven tricks in the book are all total stunners.  The best I have ever ever published.  Over the years I have heard of top magicians around the world who have each used one or more of the effects on TV or to close their shows.  So for sure I know that every effect in the book has been used by big names on TV! 
One man whose name I forget wrote to thank me and Basil for providing an effect that had gained him a brilliant reputation as a closer!  Basil worked on five books with us and so far we have published four of them and have one more ready to release and a further title to be gathered together from tapes and notes left to us after his sad demise. A classic of mentalism.
Breese 2003. Soft Cover 43pp