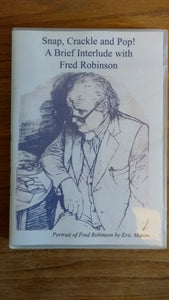 Fred Robinson - Snap, Crackle Pop!
Sometimes in this wonderful magical world that we inhabit some unexpected things can happen.  I was sitting munching my cornflakes and drinking my sixth cup of coffee one morning and through my letterbox slid a small packet.  Inside was a canister containing an 8mm sound movie.   There was a note inside the package from Ake Hallberg in Sweden.  It said something to the effect that the package contained a sound movie of Fred Robinson taken some 20 or more years ago in London's Hyde Park.    I couldn't believe what was happening.
Here was an actual film of Fred Robinson together with an invitation for me to use it in any way I chose.  That is magic. 
I sent the film off immediately to a local sound and film lab so that it could be converted to DVD.  Back came the results a week later.  The film had been converted but the quality was terrible.  The colour was off and worse still the lab couldn't copy the sound track on their machine.
I was heartbroken and found another lab to see if the job could be done again.   Another magical event took place and the second DVD proved to be outstanding with all the sound in place and with a rich and colourful video image.
A few selected friends and associates (including Dominic Twose) received a copy of the DVD and all raved about its contents.  Since then Russell Hall and Tim Smithies have remastered the DVD, added music and titles.
You will see Fred demonstrating a whirlwind array of sleights and moves from his vast repertoire.  He performs his amazing Ambitious Card Routine twice.  The first time solely for the camera and the second time for a passing Japanese tourist.  "As you are not a magician he mumbles to the Japanese tourist you don't know what Ambitious card means do you?"
Having blown the spectator away with his skill and the final little wiggle which causes the card to rise out of the pack he then moves on to many different colour changes with his pack of cards.  It is almost unbelievable watching the cards changing at a rapid pace.
And then best of all, for someone like me who is not completely card crazy, he performs his Vanishing Coin in Tie effect.
What a joy it was to see this … something that I had just read about in the draft of the book.  We have printed out the complete routine and this written description accompanies the DVD.   The text is by Peter Duffie and the method of performing it comes straight out of the pages of the Magic of Fred Robinson.  The text is complemented by five very clear illustrations.
To me this DVD is a true gem and I admit to having watched it over and over again.  It is a very short DVD but each time it is watched one can gain something more that might have been missed on a previous viewing. 
"I was a pupil of the late, great Fred Robinson. You will probably know that Martin Breese is shortly to publish a book on Fred's magic. It has been a very long time coming, but having seen a draft, I know it contains the goods. But - I've just seen a DVD that Martin has produced from an old film given to him by Ake Hallberg.  Now, I've looked for years for a clip of film of Fred  and this film by Ake is a real treasure. It captures the essence of Fred, and shows him performing his classic material. 

For me it was a treat. For those who knew Fred it will be a wonderful reminder. For those who didn't know Fred, it will be an eye-opener. And no, I've had no encouragement to write this - it is purely down to my delight at watching this wonderful film that I really didn't think existed.   Meanwhile - I remain a very privileged, lucky guy.   Dominc Twose 
"Received my copy of the Fred Robinson DVD, "Snap, crackle & pop" today. The transfer from 8mm to DVD has outperformed my expectations. Superb quality and a job very well done. My favourite line is a Somerset Maugham part quote by Fred to his tourist spectator, "Do you like card tricks?" and, before the bemused lad can answer, Fred has shown him five!!!!" Martin Tordoff, Essex, UK