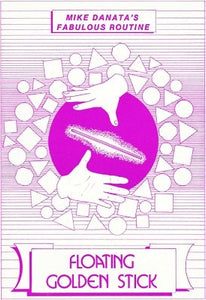 Mike Danata - Floating Golden Stick - NEW
A golden stick floats in the air without any means of support. A hoop is passed across and around the stick yet it still floats until finally at the command of the magician it travels away from him, at least six feet, and gently comes to rest upon a table. 
This effect can be performed in a large drawing room or whilst completely surrounded. It is a one man floating effect and no assistants are required. It should not be confused with the Finn Jon Floating Stick which uses an entirely different method. With this routine the stick actually floats away from the magician and if performed on a stage can float right across the entire width of the platform.
Props not supplied, but book instructions for making your own. 
Breese 1985 Soft Cover 17pp