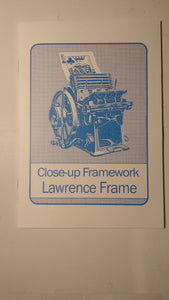 Lawrence frame - Close-Up Framework - NEW
Eight close-up routines. Clean, novel methods are used to produce effects that are clear and uncluttered. Taking as an example the first effect in the book, 'Spellbound Climax': you show a 2p coin and magically transform it into a 10p. After repeating this a couple of times you are surprised to find that the coin has changed into a button! Looking down, you discover that the coin is attached to your jacket where the button should be.
Includes Ambitious Aces repeat by Jerry Sadowitz, Swahili Prediction, Come together
To paraphrase Gordon Bruce's introduction, these aren't just tricks but lessons in presentation.
Breese 2009. 27 pages, with illustrations by Roy Johnson.