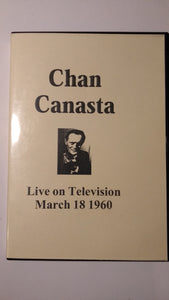 Chan Canasta Live on TV
The DVD is a complete Chan Canasta television broadcast from a 1960's US TV Show. The show that has been reproduced is the programme upon which our book Chan Canasta a Remarkable Man by David Britland is based.
I just wanted to say a huge THANK YOU for keeping the work of the brilliant Chan Canasta alive and accessible.

On one hand, I hope no one listens or learns anything about what Canasta did. I pray most think such work daring and impossible. I wish this for purely selfish reasons, of course.

But I must say that we were at a sincere loss in magic and mentalism without access to any of the Canasta performances or material. You deserve much accolades for keeping those of us secret "Chan Fans" happy and supplied.

You have always been, Martin, a true champion of magic and mentalism; of top performers and creator's rights. It is a thrill, and only proper then that you should be the one to keep the Canasta Legacy going.

I cannot thank you enough for this and all you continue to do for our arts.

Thanks and My Best
Kenton Knepper, USA
This Canasta DVD is incredible to watch. The book is the perfect compliment. Thanks for all the work. Best regards, 
Henry Carlyle, USA
What a fantastic piece of magic history to be able to watch over and over again. The quality is amazing. Thanks again.
Richard Carrigan, Tyne & Wear
"You are a joy to deal with, a REALLY honest dealer." 
Tony Cook, Cambridgeshire.
"Canasta DVD landed yesterday, what can I say? Brilliant!!!!!"  
Daniel Curtin, Dublin
"Many thanks Chan Canasta DVD received - it's great! It brought back many memories - in fact this particular last show of Chan Canasta was one that stuck in my memory as youngster and motivated me to master the classic force and experiment with psychological forces. One of my personal favourites which I have performed on many an occasion is the unseen cards to pocket. I loved the Nostalgia of seeing Chan after all these years - it really is sheer brilliance in terms of his presentation and observation of human behaviour which really is a lesson to be learned." 
Mike McMullan, West Midlands, UK
I received the Chan Canasta DVD in today's post. Thank you very much for your prompt service. I enjoyed his performance immensely, and was pleased to discover that my performing style is very much like Canasta's. Having purchased the Britland book several years ago, I've since been performing all of the effects he demonstrates on the DVD. To finally see him perform them was a treat. Thank you once again. Sincerely,
Thomas Baxter, Ontario, Canada