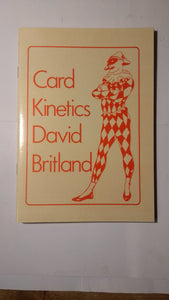 David Britland - Card Kinetics - NEW
Card Kinetics is a manual dealing with methods of making ordinary playing cards move, rise or jump. A number of different approaches are used, all practical and baffling.
In Card Kinetics, David Britland carries on the work detailed in his other manuscript, The Angel Card Rise Plus, and details several versions of this popular effect, each using a simple, disposable gimmick which can be added to your own or a borrowed deck. Users of David's Angel Card Rise should be pleased with its final incarnation, The Ultimate Angel, described in this ebook.
But there is more. Angel Aces, Spring Heeled Jacks, Inside-Out Angel, Business...


Breese, 1988 Fully illustrated 42pp