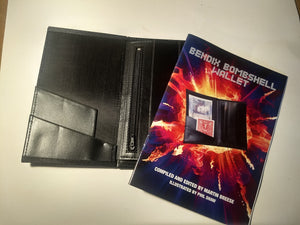 Bendix Wallet
Two of these remain from older stock. They are unused but have a few faint marks - hence not quite brand new.
The Bendix Bombshell Wallet, invented by David Bendix is a unique version of the Himber wallet allowing a variety of card-to-wallet and transposition effects. It was re-made in high quality leather by Martin Breese and is accompanied by a 25 page booklet detailing some 20 different routines from famous and respected performers.

The ingenious design allows you to perform the signed card to deck without sleight of hand or palming and with no stealing of a card from the deck required. Some of the effects are card transpositions, others are currency exchanges. The Wallet measures 18cm by 11cm.

The wallet comes complete with a 25 page booklet containing routines from talented magicians and magical creators:  Ed Marlo, Roberto Giobbi, David Solomon, Dave Bendix, Phil Goldstein, Bob Driebeek, Roy Roth, Peter Isaacs, Larry Becker, Karrell Fox and Borodin.