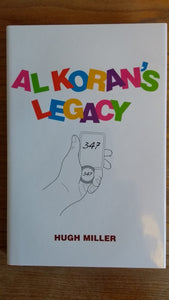 Hugh miller - Al Koran's Legacy - NEW
Published by Martin Breese 2009. Hardback with dust jacket. 230pp
The book contains most of the material in the original edition, but virtually everything has been re-written and benefits from the skill of an expert editor. There is a host of additional material written by Lewis Ganson and previously published in the Routined Manipulation series published by Harry Stanley. 

We would like to thank Graham Jolley for helping us to unravel a very complex effect in this book. In previous editions of Al Koran's Legacy the instructions for Headline Prediction were hard to follow but Graham persevered in working out the correct method for the effect. And that is probably why, up to now, he is one of the few to perform this baffling routine. Graham usually closes his act with this effect as it is so powerful. He has written it up for us showing exactly how it should be performed and having seen Graham perform it many times I can confirm it is completely baffling.

Lewis Ganson's Routined Manipulation series on Al Koran has also been included as a very special added bonus and this includes Al's Koran's Miracle Blindfold Card Act. It is one of the finest routines in this book. We have a DVD of that here.