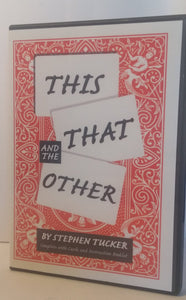 This, That and the Other DVD and trick
The DVD features this miracle trick from the fertile, inventive and, dare we say, dangerous mind of Stephen Tucker. Who started the magic video and magic DVD craze? Who was the first performer to be featured on a proper commercial magic video? I made the first video and Stephen Tucker was the artist. What did we start?
Martin Breese: "I released this trick by Stephen Tucker back in the 1980s and discovered that someone, who should know better, had taken it, had it demonstrated by a good performer and then was selling video downloads explaining how to do it. What a cheek. And worse still the pirate video was the most viewed trick on YouTube ever! Not fifteen hundred viewers, not fifteen thousand viewers but fifteen Million! I had it taken off YouTube as soon as I knew! I had to do something about it! I got Stephen Tucker, who created and invented the effect, to put it all on DVD for me."
 There is a fabulous booklet of instructions and the three special cards you need (printed on Bicycle stock) and of course the DVD!