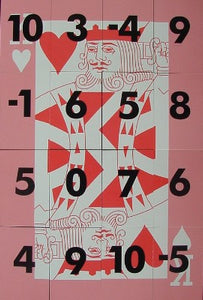 Magic Square - hearts + Magic
A spectator is asked to throw three fair dice. From the number fairly thrown you construct a perfect magic square. For a kicker the cards are put together and the face of a King of Hearts appears.
There is no palming of cards or exchanging of decks or anything like it. You work with 16 cards and 16 cards only without any sleight-of-hand.
You get 16 specially printed cards (each card is 6cm x 9cm). A four page description with a detailed explanation and performance ideas. A short description in German is included as well.
"Ingenious - blows my mind every single time." - David Malek
"... it's an easy-to-do, effective, and very intriguing trick." - Stephen Hobbs in Magic Magazine.
"I think it's great!" - Jon Racherbaumer