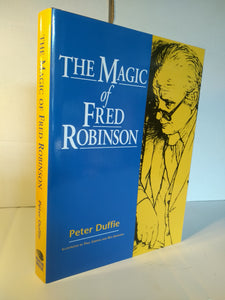 Peter Duffie - The Magic of Fred Robinson - NEW
"Peter Duffie's

 

The Magic Of Fred Robinson

 

is a wonderful book containing a gold-mine of ideas, subtleties and secrets from one of magic's finest exponents and thinkers. ...

 

The Magic Of Fred Robinson

 

is an excellent book full of wonderful ideas, useful sleights, and powerful effects. More than that, it's a great read and takes me back to the feeling I had when I first read

 

Vernon's Inner Secrets books." -

 

R. Paul Wilson

 

from his 2009 review in

 

Genii.

"I state without fear of exaggerating that Fred was one of the all-time greats; especially with cards." - Dai Vernon

"Card magic and techniques of card-handling have fascinated me for most of my life. Meeting Fred was a highlight of my life." - Roy Walton

"Your journey with Fred is about to begin thanks to Peter Duffie and Martin Breese. I envy you." - Simon Lovell

"Always with a twinkle in his eye, Fred would fool you consistently." - Gordon Bruce
Nearly 20 years in the making. The Magic of Fred Robinson was one of the most anxiously-awaited books among magicians the world over. It has been in the making for years and it was perhaps the most significant magic book of its decade.
Fred Robinson was a private man but his skill at sleight-of-hand with cards and coins was legendary. He could be found at the Magic Circle on Monday evenings and many well-known names from around the world paid homage to Fred and traveled countless miles to witness for themselves his legendary skills.
He was the editor of Pabular magazine and inspired contributions from the finest magicians of his time. The Magic of Fred Robinson documents and describes every effect that Fred performed. It has been written by Peter Duffie who has skillfully described all of Fred's sleights and effects in the greatest of detail. There are pages of detailed drawings by Paul Griffin and Roy Johnson and photographs and the book pays tribute to one of the greatest sleight-of-hand magicians the world has ever known. Many magicians have contributed to this work.
For the only video we have available of Fred Robinson check out Snap, Crackle and Pop!
Breese Hardvover 1st Edition 2009 286pp