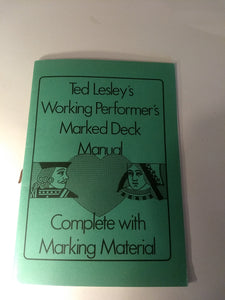 Ted Lesley's Working Performers Marked Deck Manual - with marking material
This is an as-new copy of the booklet published by Martin Breese in 1991. The marking material sheet is old - probably 1980s so I cannot guarantee how effective it is.
The 52 page manual includes one set of marking materials. Some are Martin Breese's original publication, others are the Magic City re-print. They are all in new condition. The manual was put together by David Britland and Ted Lesley and illustrated by Eric Mason and Jat. The instructions for preparing the deck are accompanied by routines from a number of contributors.