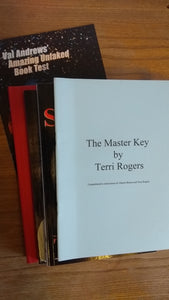 Master Key book test by Terri Rogers plus free extra HALF PRICE
The Master Key is probably the finest book test that has ever been released. The three books supplied, along with the 20 page instruction booklet, allow you to perform not only this, but also the UF GRANT' TRUE TEST, AL KORAN'S BOOK TEST, and THE VAL ANDREWS SENTENCE TEST. So four book tests in one. The Master Key works for both small and large audiences and can be repeated for the same audience.

Included FREE Val Andrews Unfaked Booktest.

The Master Key effect runs like this: The audience has a free choice of one of three books. They can look anywhere on any page in any of these books and remember any word they wish as long as it is at least five letters long. Thereafter the magician close up or from a distance (even by phone) can spell out the letters of the word. Then a second word can be selected and the you can reveal not only the word, but the whole line in which it occurs. Kreskin and Paul Daniels and countless other world-rated top magicians have used The Master Key. 
The Master Key: What the professionals have to say.
"As a professional magician who has worked in over 177 countries and specializes in the corporate market, I am always looking for practical strong effects. Personally I enjoy mentalism and find that too many of the 'great mental tricks' are not as practical or clean as they are advertised. To me, mental magic must be as a real psychic would do it. If I am asked to predict a word in a book, I do not want to force the book or the page. It must be a case of take the book, checks it's a normal book and look at any word ANYWHERE. Don't even worry about the page no. Just look at any word.

Then I must be able to identify the word cleanly. The Key is by far the most original, practical and clean book prediction I have ever performed. It has been my favorite trick for years and I have lost count of the people who believe I am really psychic because of The Key. I have met people years later who remember the trick and the word they chose, when instantly, without them reminding me of the word, I do it again - then and there! I cannot rave enough about this effect. It is the ultimate in book predictions and the closest you will ever get to the real thing." - Wolfgang Riebe, Cape Town, South Africa
________________________________________________
"I Just wanted to thank you for introducing me to Terri Rogers' Master Key. It is really terrific! I had a great show on Saturday night with a full crowd and 90 minutes of magic and mentalism. The Master Key was a hit!" -Dr. Todd Landman, The Metaphysical Magician, UK