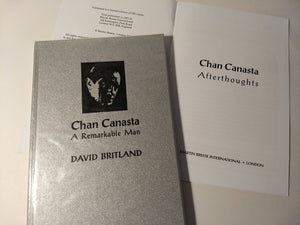 David Britland - Chan Canasta - A Remarkable Man - with supplements
Breese 2000 1st Edition ;
Hardcover; Book Condition: Fine Jacket: n/a

Fine copy protected in a removable plastic sleeve. Included is the rare 'Afterthoughts' booklet with additional essays on Chan by the publisher, Graham Jolley and Val Andrews (published as a limited edition of 550 copies for special customers). For good measure, the subsequent volume 2 softcover booklet of additional material is included. This is lightly read.